The Pediatric Brain Tumor Foundation and Christopher Brandle Joy of Life Foundation partner to fund medulloblastoma research at Massachusetts General Hospital. A grant of $150,000 was given by the Christopher Brandle Joy of Life Foundation to fund this research…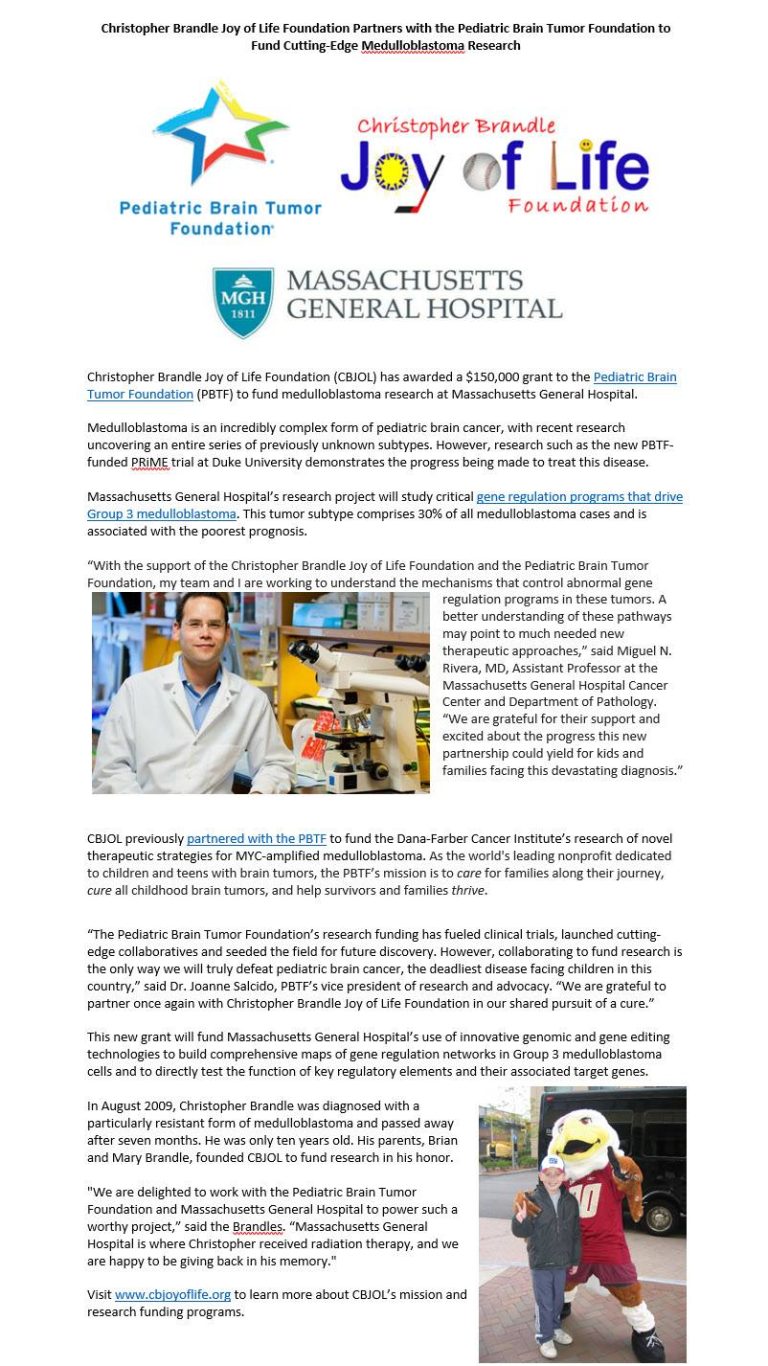 The Pediatric Brain Tumor Foundation and Christopher Brandle Joy of Life Foundation partner to fund medulloblastoma research at Dana-Farber. A grant of $150,000 was given by the Christopher Brandle Joy of Life Foundation to fund this research…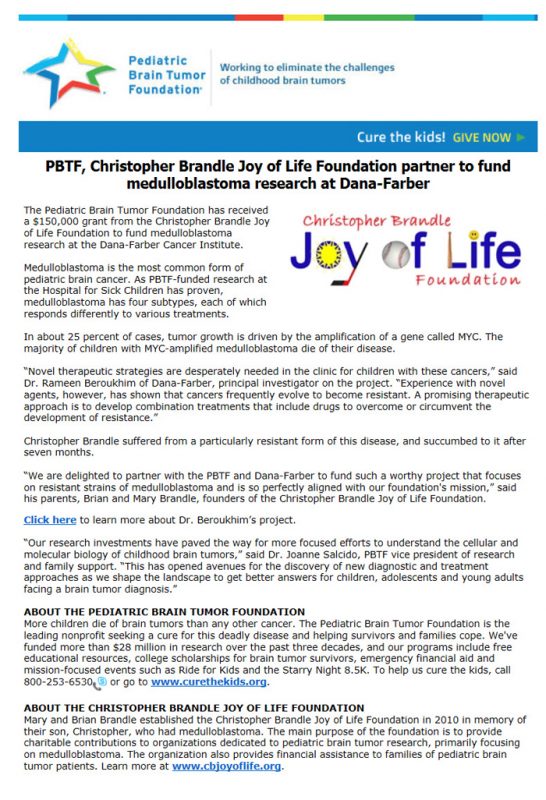 Children's Hospital of Philadelphia (CHOP)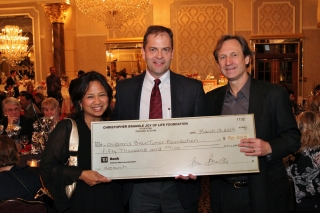 We are delighted to announce that our foundation has made its first donation toward pediatric brain tumor research. In March, 2014 the Christopher Brandle Joy of Life Foundation donated $50,000 to a consortium of children's hospitals.
Children's Hospital of Philadelphia (CHOP), Lurie Children's Hospital of Chicago, Children's Hospital of Pittsburg and Seattle Children's Hospital work together to conduct research and share results of their own research projects. The consortium collects patient tissue samples which are housed at a tissue bank at CHOP and made available to any researcher throughout the world, greatly reducing the time necessary for a pediatric brain tumor research project to get underway.
This donation would not have been possible without the assistance of the Children's Brain Tumor Foundation (CBTF), who introduced us to the consortium. We look forward to a long and productive relationship with the consortium and CBTF!
Mahwah Regional Chamber of Commerce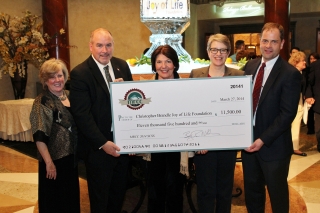 In January, 2014 the Christopher Brandle Joy of Life Foundation participated in the Super Spirit Community Showcase event hosted by the Mahwah Regional Chamber of Commerce. 
The event was an opportunity for 501c(3) organizations throughout the region to meet, collaborate and showcase their activities. 
Over 85 organizations participated and we are very proud to announce the Christopher Brandle Joy of Life foundation was voted favorite charity at the event. 
In March the MRCC attended our casino night event and presented our foundation with a check for $11,500.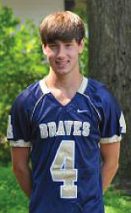 "Danny Thompson feels Chris Brandle's presence every time he steps on the football field. Whether he's throwing a pass or running for a touchdown, the Indian Hills junior quarterback knows Brandle is looking down on him.
The Record Male Athlete of the Week also knows he has to push himself much harder to honor his young friend's memory the best way he knows how — by playing for him.
"He's in my mind throughout the game," Thompson said of Brandle. "He motivates me to play better and to push for the extra yard."
Danny was also featured on MSG Varsity.
Inaugural 'Rock Out' Fundraiser sets the bar high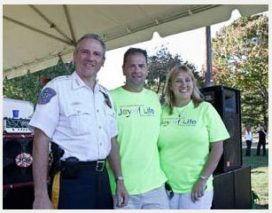 NorthJersey.com, home to The Record and The Suburban, did a great job reporting on our first Annual Rock Out; they really captured the event.  Below is a short excerpt.
At all times during the five-hour event, which featured a band, a barbecue, a disc jockey, a dunk tank and several crafts and games of chance, there were boys threading footballs through a tire swing and girls with stained lips eating shaved ice out of cones.
It was everything Christopher would have loved, his family and friends said.
Oakland Students Shave Heads for Classmate with Cancer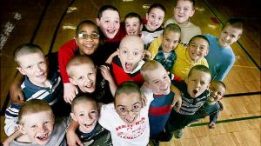 Sixteen boys at an Oakland elementary school shaved their heads to show solidarity for a fourth-grader who was diagnosed with a malignant brain tumor three months ago. Christopher Brandle, 10, underwent surgery in August and then spent six weeks at a Massachusetts hospital undergoing a special form of radiation treatment, which caused him to lose his hair. He returned to Heights Elementary School on Monday after a prolonged absence, but wasn't feeling up to attending the rest of the week…
Storming the Gates of Heaven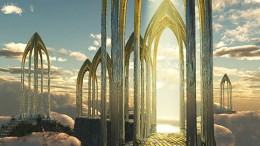 Storming the gates of heaven is the only way to describe recent events in the Oakland community. A prayer service at Our Lady of Perpetual Help in Oakland drew hundreds of people to pray for a child stricken with brain cancer; a Facebook page has attracted over a thousand more. There are two children in the town of Oakland in serious condition due to brain cancers, and their plights have many residents storming the gates of heaven in their homes and houses of worship…
For Supporters of Chris Brandle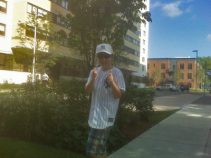 "…Everything remains exactly as it was. I am I, and you are you, and the old life that we lived so fondly together is untouched, unchanged. Whatever we were to each other, that we are still.
Call me by the old familiar name. Speak of me in the easy way which you always used. Put no difference into your tone…Laugh as we always laughed at the little jokes that we enjoyed together.
Play, smile, think of me, pray for me. Let my name be ever the household word that it always was. Let it be spoken without an effort, without the ghost of a shadow upon it…
Cancer and Our Environment
May is Brain Cancer Awareness month, and the heart of the Ramapo Valley is not immune from the tribulations of this specific disease.
The Matthew Larson Foundation based in Franklin Lakes, and the recently established Christopher Brandle Joy of Life Foundation, were born from the tragic loss of two young boys to pediatric brain cancer. The increase in brain cancer amongst the elderly may be a result of longer life spans, but the life spans of children cut short by the dramatic increase in pediatric brain cancer cannot dismissed so readily with a similar argument…